Raj Bhavan Organisation Structure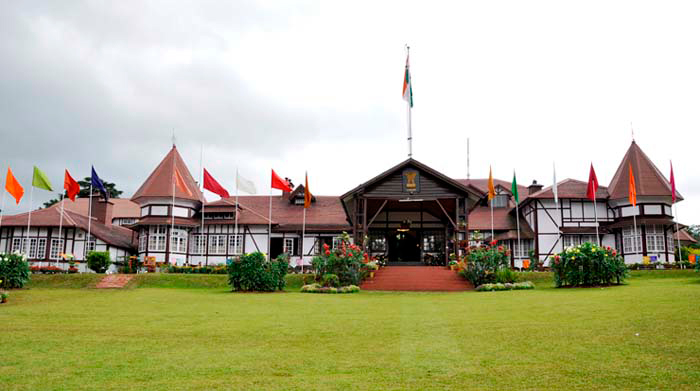 The Raj Bhawan, Meghalaya formerly known as Goverment House, is the official residence of the Governor of Meghalaya. It is located in the capital city of Shillong, Meghalaya. Spread over an area of 30.67 acres, the Raj Bhawan, Meghalaya consist of three blocks, namely, Main block, Kitchen Garden and Staff Quarter. The compound is surrounded with green lawns, flowers beds, trees, water fountain and Monoliths (Mawbynna) which add traditional and cultural value to the indegineous local people.
The entrance gate of Raj Bhavan is well-designed sandstone pillars and iron bars that have remained ever imposing. They are witness to the history of Meghalaya and of the North-East. On both sides of the entrance, a guard house, call Sentry Barrack and the Office of the Deputy Superintendent of Police is located.
The Main block has a lawn tennis court, a small park for children and 8 different building in it – The Raj Bhawan Bungalow, Governor Secretariat, Secretary Quarter, House Controller Quarter, Gym & Multipurpose Hall, Sentry Barrack, Office of the Deputy Superintendent of Police and Office of Special Branch Police.
The Raj Bhawan Bungalow comprises of Governor's suite with attached sun room, three guest rooms, ADC's office rooms, PA's office room and office room of the Hon'ble Governor, where he attends official papers and conducts meetings. Apart from these there is a billiards room, Durbar Hall, Presidential suit, the library room pantry room and two kitchen rooms. The compound is embed with flower beds Calendula, Antirrhinum, Alyssum, Pansy, Stock, Petunia, Ornamental cabbage, Dimorphotheca, Dianthus, Zinnia, Verbena, Sweet William, Chinese Umbrella, Schizanthus. Other flowers that are growning inside Raj Bhavan include Dahlia, Chrysanthemum, Marigold, Geranium, Ranunculus, Cineraria, Salvia, Poppy, Lily, Orchids, Gerbcra, Anthurium, Tulips, and many others which offering magnificent views on all sides.